Views from Supporters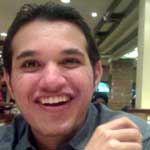 "I'm from Pakistan and my college offered very few courses. I started using MIT OCW in 2006 and just learned by myself, specially advanced mathematics courses like Differential Equations, Linear Algebra, Analysis, and so on.
After graduating from college with excellent grades, I got a scholarship to go to LSE for a Masters in Economics. While there, I learned a lot and realised how much more there is to learn.
Yesterday I finished my 1st year of PhD in Economics at Boston University. I will be taking some classes for real at MIT in the next few years.
All through my educational journey, the MIT OCW has been an invaluable source to supplement my classroom learning. I hope to become a regular supporter of this noble cause."
- Talal, Student, Pakistan
Tell us what you think of OCW at ocw-feedback@mit.edu.