MIT Lesson 22 Kanji: $BBh#2#22]$N4A;z(B

Warning! There is Japanese text on this page. If it looks like this: $BI4@i instead of this: "

", then read this.

Each large, brush-stroke image below which shows up as a hypertext link (e.g. has a colored box around it) is a link to a 1 Megabyte (or less) QuickTime movie of the character being painted with a brush.
JP NET is grateful to Prof. Saeko Komori for permission to use the kanji movies at our site. All movie data is copyright 1995, 1996 by Saeko Komori.
---
In the following definitions, on (Chinese-based) readings are represented by katakana, and by capital romaji letters; kun (native Japanese-based) readings are represented by hiragana, and by lower-case romaji letters. This is a common dictionary convention, and does not have any bearing on meaning.
---

Printed form:

$B@2(B

Readings:

$B$O(B($B$l$k(B)
ha

Meaning:

clear up

Mnemonic:

The sun $BF|(B in the blue $B@D(B sky.

Usage Examples:

$B@2$l$k(B ($B$O$l$k(B) clear up
---

Printed form:

$BF^(B

Readings:

$B$/$b(B($B$k(B)
kumo

Meaning:

get cloudy

Mnemonic:

The sun $BF|(B is hiding above clouds $B1@(B.

Usage Examples:

$BF^$k(B ($B$/$b$k(B) get cloudy
---

Printed form:

$BIw(B

Readings:

$B$+$<(B/$B%U%&(B
kaze/FUU

Meaning:

wind

Mnemonic:

A kite with a picture of a strong $B6/(B warrior on it, flying high in the wind.

Usage Examples:

$B6/$$Iw(B ($B$D$h$$$+$<(B) strong wind
$BBfIw(B ($B$?$$$U$&(B) typhoon
---

Printed form:

$BAk(B

Readings:

$B$^$I(B
mado

Meaning:

window

Mnemonic:

The combination of the roof radical $BU_(B, public $B8x(B, and heart $B?4(B.

Usage Examples:

$BAk(B ($B$^$I(B) window
$BAk8}(B ($B$^$I$0$A(B) ticket window
---

Printed form:

$B8x(B

Readings:

$B%3%&(B
KOO

Meaning:

public

Mnemonic:

An elderly official has drooping eyes $BH,(B and big nose $B%`(B.

Usage Examples:

$B8x$`0w(B ($B$3$&$`$$$s(B) government employee
---

Printed form:

$B1`(B

Readings:

$B%(%s(B
EN

Meaning:

garden

Mnemonic:

An enclosed garden far away $B1s(B.

Usage Examples:

$B8x1`(B ($B$3$&$($s(B) park
$B>eLn8x1`(B ($B$&$($N$3$&$($s(B) Ueno Park
---

Printed form:

$B1s(B

Readings:

$B$H$*(B($B$$(B)
too

Meaning:

far

Mnemonic:

One travels $BN9(B far on the land $BEZ(B with a sack $B8}(B.

Usage Examples:

$B1s$$(B ($B$H$*$$(B) far
---

Printed form:

$B@c(B

Readings:

$B$f$-(B
yuki

Meaning:

snow

Mnemonic:

Rain $B1+(B changes into snow when the temperature drops, and it's time to rake it $B%h(B.

Usage Examples:

$B@c(B ($B$f$-(B) snow
---

Printed form:

$B=U(B

Readings:

$B$O$k(B
haru

Meaning:

spring

Mnemonic:

The sun gives its warmth to the earch and seeds begin to puh up their shoots.

Usage Examples:

$B=U(B ($B$O$k(B) spring
$B=U5Y$_(B ($B$O$k$d$9$_(B) spring vacation
---

Printed form:

$B2F(B

Readings:

$B$J$D(B
natsu

Meaning:

summer

Mnemonic:

A big head $BJG(B with a huge decorated mask dancing with bare feet.

Usage Examples:

$B2F(B ($B$J$D(B) summer
$B2F5Y$_(B ($B$J$D$d$9$_(B) summer vacation
---

Printed form:

$B=)(B

Readings:

$B$"$-(B
aki

Meaning:

autumn

Mnemonic:

A stalk of grain $B2S(B and fire $B2P(B.

Usage Examples:

$B=)(B ($B$"$-(B) autumn
---

Printed form:

$BE_(B

Readings:

$B$U$f(B
fuyu

Meaning:

winter

Mnemonic:

A picture of a mountain covered with snow.

Usage Examples:

$BE_(B ($B$U$f(B) winter
$BE_5Y$_(B ($B$U$f$d$9$_(B) winter vacation
---

Printed form:

$BN}(B

Readings:

$B%l%s(B
REN

Meaning:

to knead

Mnemonic:

The combination of the thread radical $B;e(B and the east $BEl(B.

Usage Examples:

() winter vacation
---

Printed form:

$B=,(B

Readings:

$B%7%e%&(B
SHUU

Meaning:

practice; learn

Mnemonic:

White $BGr(B bird's feather $B1)(B.

Usage Examples:

$BN}=,(B ($B$l$s$7$e$&(B) practice
---

Printed form:

$B<-(B

Readings:

$B%8(B
JI

Meaning:

word; term

Mnemonic:

A critic of bitter $B?I(B tongue $B@e(B.

Usage Examples:

$B<-=q(B ($B$8$7$g(B) dictionary
$BOB1Q<-$F$s(B ($B$o$($$$8$F$s(B) Japanese-English dictionary
---

Printed form:

$BBf(B

Readings:

$B%?%$(B/$B%@%$(B
TAI/DAI

Meaning:

machine(s); board

Mnemonic:

Katakana $B%`(B and $B%m(B.

Usage Examples:

$B0lBf(B ($B$$$A$@$$(B) one vehicle
$BBfIw(B ($B$?$$$U$&(B) typhoon
---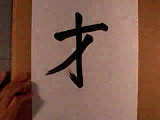 Printed form:

$B:M(B

Readings:

$B%5%$(B
sai

Meaning:

classifier for counting years of human age

Usage Examples:

$B8^:M(B ($B$4$5$$(B) five years old
$BFs==:M(B ($B$O$?$A(B) twenty years old
---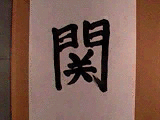 Printed form:

$B4X(B

Readings:

$B%+%s(B
KAN

Meaning:

barrier; bolt

Usage Examples:

$B4X782q

---

Printed form:

$B78(B

Readings:

$B%1%$(B/ $B$+$+$j(B
KEI / kakari

Meaning:

connection; involve; concern; affect

Usage Examples:

$B78$N?M!J$+$+$j$N$R$H!K(Ba person in charge

---

Printed form:

$B6u(B

Readings:

$B%/%&(B/ $B$=$i(B
KUU / sora

Meaning:

empty; sky; open/be opened

Usage Examples:

$B6u$N?'(B ($B$=$i$N$$$m(B) color of the sky
$B@J$,6u$$$F$$$k(B ($B$;$-$,$"$$$F$$$k(B) seat is empty
$B6u@J(B ($B$/$&$;$-(B) empty seat

---

Printed form:

$B9A(B

Readings:

$B%3%&(B/$B$_$J$H(B
KOO / minato

Meaning:

port; harbor

Usage Examples:

$B@.ED6u9A(B ($B$J$j$?$/$&$3$&(B) Narita Airport
$B9A$,8+$($k8x1`(B ($B$_$J$H$,$_$($k$3$&$($s(B)
park overlooking a harbor

---

New Readings:

$B6a$E$/(B ($B$A$+$E$/(B) to approach
$BBg?e(B ($B$*$*$_$:(B) flood
$BA4$/(B ($B$^$C$?$/(B) entirely
$B1+$,9_$k(B ($B$"$a$,$U$k(B) it rains