MIT Lesson 26A Kanji: $BBh#2#6#A2]$N4A;z(B

Warning! There is Japanese text on this page. If it looks like this:$BI4@i instead of this: "

", then read this.

Each large, brush-stroke image below which shows up as a hypertext link (e.g. has a colored box around it) is a link to an animation of the character being painted with a brush.
---
In the following definitions, on (Chinese-based) readings are represented by katakana; kun (native Japanese-based) readings are represented by hiragana. This is a common dictionary convention, and does not have any bearing on meaning.
---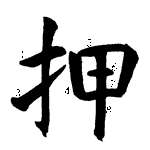 Printed form:

$B2!(B

Readings:

$B$*!J$9!K(B

Meaning:

push

Usage Examples:

$B2!$7F~$l(B
$B2!$7$F$b3+$+$J$$!#(B
---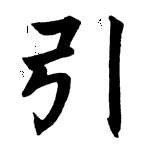 Printed form:

$B0z(B

Readings:

$B%$%s(B
$B$R!J$/!K(B

Meaning:

pull

Usage Examples:

$B0z$$$?$i!)(B
$B0zMQ(B $B!J$$$s$h$&!K(B $B$9$k(B quote
---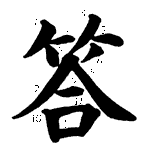 Printed form:

$BEz(B

Readings:

$B%H%&(B
$B$3$?$((B
$B$3$?$(!J$k!K(B

Meaning:

answer

Usage Examples:

$BEz$($F2<$5$$!#(B
$BLdBj$NEz$,$J$$!#(B
$B2sEz(B $B!J$+$$$H$&!K(B $B$9$k(B answer
---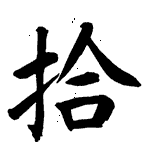 Printed form:

$B=&(B

Readings:

$B%7%e%&!"%8%e(B
$B$R$m!J$&!K(B

Meaning:

pick up

Usage Examples:

$B=&$C$?$*6b(B
---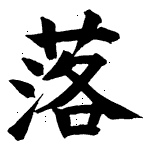 Printed form:

$BMn(B

Readings:

$B%i%/(B
$B$*!J$A$k!K(B
$B$*!J$H$9!K(B

Meaning:

drop; fall

Usage Examples:

$B;M3,$NAk$+$i?M$,Mn$A$?!#(B
$BMn$H$7J*(B
---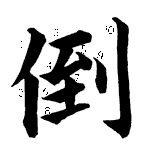 Printed form:

$BE](B

Readings:

$B%H%&(B
$B$?$*!J$l$k!K(B
$B$?$*!J$9!K(B

Meaning:

topple; fall; collapse

Usage Examples:

$BBfIw$G2H$,E]$l$k(B
$B2q$BE>E](B $B!J$F$s$H$&!K(B $B$9$k(B fall down, tumble
---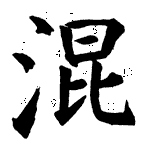 Printed form:

$B:.(B

Readings:

$B%3%s(B
$B$^!J$8$k!K(B
$B$^!J$<$k!K(B

Meaning:

mix

Usage Examples:

$B?e$r:.$<$k$@$1$G$9!#(B
$B1+$^$8$j$N@c(B
$B;R$I$b$NCf$KBg?M$,:.$8$C$F$$$k!#(B
---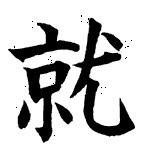 Printed form:

$B="(B

Readings:

$B%7%e%&!"%8%e(B
$B$D!J$/!K(B

Meaning:

set about;
launch

Usage Examples:

$B="?&$9$k(B
$B="3X(B $B!J$7$e$&$,$/!K(B $B$9$k(B enter school
---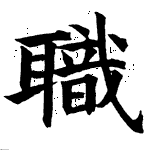 Printed form:

$B?&(B

Readings:

$B%7%g%/(B

Meaning:

job

Usage Examples:

$B?&6H(B $B!J$7$g$/$.$g$&!K(B occupation
$B?&$K="$/(B take up employment
---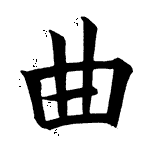 Printed form:

$B6J(B

Readings:

$B%-%g%/(B
$B$^!J$,$k!K(B
$B$^!J$2$k!K(B

Meaning:

turn

Usage Examples:

$B%S!<%H%k%:$N6J(B
$B:n6J(B $B!J$5$C$-$g$/!K(B $B$9$k(B compose music
$B<!$N3Q(B $B!J$+$I!K(B $B$r6J$,$C$F(B
---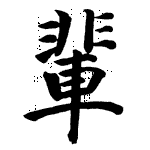 Printed form:

$BGZ(B

Readings:

$B%O%$!"%Q%$(B

Meaning:

fellow

Usage Examples:

$B@hGZ$H8eGZ(B
$BF1GZ$N=8$^$j(B
---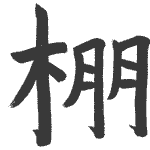 Printed form:

$BC*(B

Readings:

$B$?$J!"$@$J(B

Meaning:

shelf

Usage Examples:

$BK\C*$d8MC*$NCf$b8+$?!#(B
$BC*$N>e$K2YJ*$r$N$;$?!#(B
---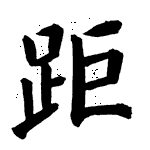 Printed form:

$B5w(B

Readings:

$B%-%g(B

Meaning:

distance

Usage Examples:

$B5wN%$,$"$k!#(B
$B#1#0%-%m$N5wN%$rJb$/!#(B
---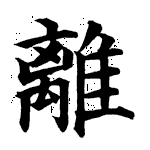 Printed form:

$BN%(B

Readings:

$B%j(B
$B$O$J!J$l$k!K(B
$B$O$J!J$9!K(B

Meaning:

separate

Usage Examples:

$B?F$HN%$l$F=;$`!#(B
$BN%:'$9$k(B
$B

---

Printed form:

$B>2(B

Readings:

$B%7%g%&(B
$B$H$3!"$f$+(B

Meaning:

bed, floor

Usage Examples:

$B>2$N4V(B $B!J$H$3$N$^!K(B alcove
$B>2$K%3%C%W$rMn$H$7$?!#(B
$B5/>2(B $B!J$-$7$g$&!K(B $B;~4V(B wake-up time

---

Printed form:

$B5D(B

Readings:

$B%.(B

Meaning:

discuss

Usage Examples:

$B2q5D(B
$B5D0w(B $B!J$.$$$s!K(B a member of an assembly