Basis and Orthogonal Functions
This is a generalization of the Fourier series. The orthogonality of the trignometric functions
(i.e., Sin[2 π n x] Sin[2 π m x]dx = )
was the key to the ``trick'' that permitted calculation of the Fourier coefficients.
This is a generalization of dot or scalar vector product, but for functions. The norm that is defined above for the trignometric functions is fairly simple, it is the l2-norm:
f(x) • g(x) ≡ ∫ f(x) g(x) dx (l2-norm)
However, there can be many other types of norms, for instance a Gaussian weighted l2-norm
f(x) • g(x) ≡ ∫ f(x) g(x) dx (Gaussian weighted l2-norm)
and many many others.

Both the norm and the domain of integration must be defined.

To represent a function in terms of a sum of basis functions with coefficients, a orthogonality relation must be obtained for the basis functions.
We will do a few examples of orthogonality relations, the coefficients can be found as a straightforward extension of the Fourier method.
Establish by example the orthogonality relations for the Lengendre Polynomials
In[115]:=
Out[115]=
Calculate the norm as a function of the order of the Legendre polynomial
In[116]:=
Out[116]=
Make a guess at what the norm looks like
In[117]:=
Out[117]=
The orthogonality relation is plausibly: LegendreP[i,x] LegendreP[j,x]dx =
| | |
| --- | --- |
| | if | i|=|j| |
| 0 | if |i |≠|j| |

In fact, this is correct

Representation of a function in terms of the Legendre basis

This demonstrates how to take a specific set (basis) of orthogonal functions and represent an arbitrary function in terms of an infinite sum of terms involving the basis functions, each with its own coefficient. This is a direct analog to what we did with Fourier series.

A function to calculate the coefficients

In[118]:=

Use Legendre functions to represent the function

This is an example function:

In[119]:=

Calculate the first twenty coefficients

In[120]:=

Out[120]=

Construct a vector of the eigenfunctions

In[121]:=

Visualize the approximation of the first twenty terms

In[122]:=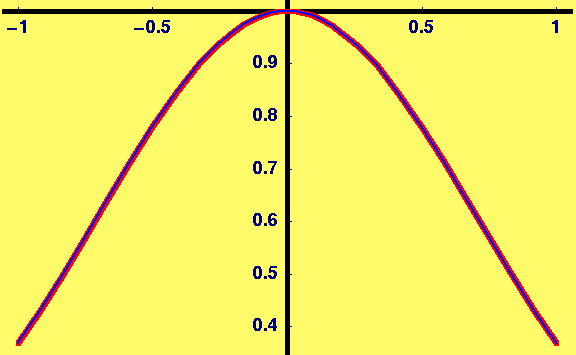 Out[122]=
Try another function
In[123]:=
Coefficients out to 10 terms
In[124]:=
Out[124]=
In[125]:=
Visualize the approximation
In[126]:=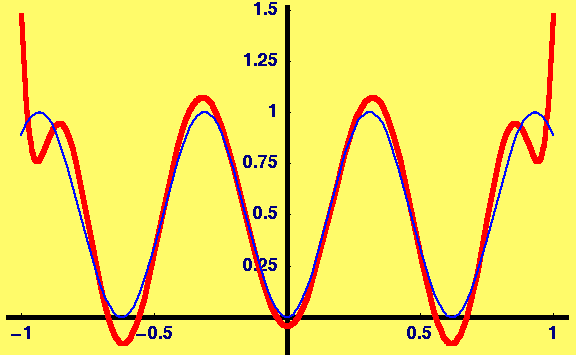 Out[126]=
---