Organizational Economics Within Firms, Between Firms, and Beyond Firms
Description:
Uses of organizational economics within firms, between firms, and beyond firms. (Image courtesy of Prof. Robert Gibbons.)
Alt text:
An ellipse surrounds the uses of organizational economics Between Firms on left (Vertical Integration, Horizontal Integration, Contracts, and Hybrids) and Within Firms on the right (Decision-Making, Employment, and Structures and Processes). Outside the ellipse are the uses Beyond Firms (Order without Law, Agencies, and States).
Caption:
Uses of organizational economics within firms, between firms, and beyond firms. (Image courtesy of Prof. Robert Gibbons.)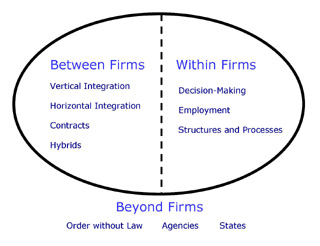 Course Info
| | |
| --- | --- |
| Instructors: | |
| Course Number: | |
| Departments: | |
| As Taught In: | Spring 2009 |
| Level: | Graduate |
Learning Resource Types
assignment
Written Assignments