Red Team: R2D2ooth Blue Team: Flava-Rama Yellow Team: HP Magical Brush Green Team: The BatCave Purple Team: FlossZilla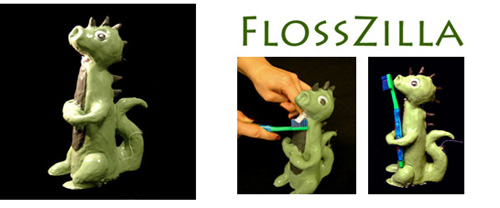 A multi-purpose dinosaur that dispenses toothpaste, holds your toothbrush and encourages you to floss. The floss is dispensed through the tail of the dinosaur.
Purple Team: Brian Hack, Chris Casiano, Jennifer Moore, Jean Shon, Somin Lee
BATMAN, character, name and all related indicia are trademarks of DC Comics © 1999. Godzilla®, all related characters and the Character Designs are trademarks of Toho Co., Ltd. © 2004 Toho Co., Ltd. All rights reserved. HARRY POTTER and all related characters and elements are trademarks of and © Warner Bros. Entertainment Inc. Harry Potter Publishing Rights © J.K.R. 2006. HASBRO © 1998 Hasbro, Inc. All Rights Reserved. STAR WARS © 1999 Lucasfilm Ltd. & TM. All Rights Reserved.