| | |
| --- | --- |
| KATE JAMES | MIT 4.213J/11.308J URBAN NATURE AND CITY DESIGN |

- - - > SCORE CASE STUDY: > PART 3
Third/ Athenaeum

As you walk from the park down 3rd Street to Athenaeum Street, key in to the sounds and vibrations of the area. Try to align your walking pace with some site rhythm. Are the metronomes on the site "natural"?
Record a score (in whatever form you like) of these site rhythms and sounds as you walkdown Third Street and take a right onto Athenaeum.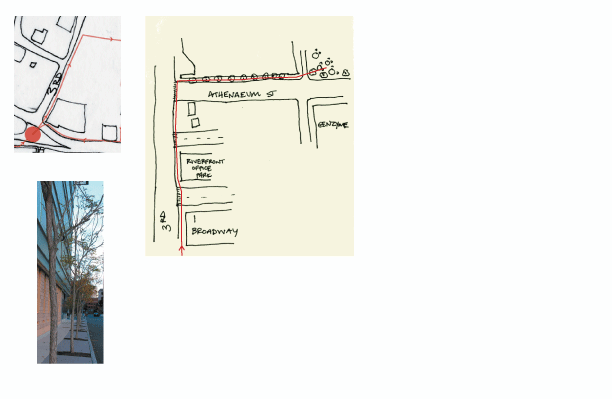 "A truck beeping and the sound of cars intermittently accelerating and decelerating... sound of the leaves on the concrete pavement... TSsssss sound of steam coming from A grill on the floor... crunching sound of footsteps on small loose stones... Except for the sound of the leaves none of the metronomes are natural."
"rumbling truck waiting for light, revving to go, revving to speed up.. Swooshy car sound as they pass… another…another. Sounds of a construction site, guy climbing ladder, knocking of tools against steel, hammers etc., high-pitched generator and steam gate."
"high beep- occasional phase, wheels on manhole cover- syncopated, demolition, wind/ dry leaves- when passing trees. Sounds of traffic, demolition, and constrution. There is no discernable base rhythm, unless I stop in one place."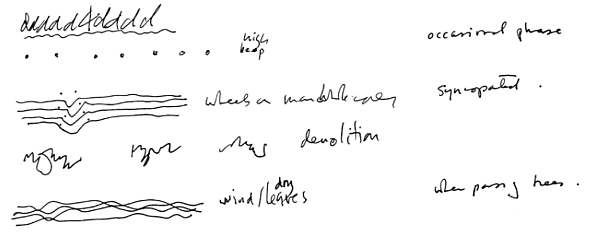 "trucks- brrrrmmmmmmmmmmm rattling signs- bang bang whistling wind engines idling hammers echoing- construction bapbap…bapbap…bapabp "I I spent 1 day on Wednesday…" passing conversation- bits of conversation papers ruffling flllllylttfllllyyh h httt steam pipes- constant- frrrfrrfrfrfrfrrrrfrrrrrrr"