| | |
| --- | --- |
| KATE JAMES | MIT 4.213J/11.308J URBAN NATURE AND CITY DESIGN |

- - - > SCORE CASE STUDY: > PART 5
Broad Canal

At the end of Athenaeum Street take a right onto Edwin H.Land Boulevard. You'll come upon Broad Canal, which flows perpendicular to Memorial Drive. Explore the area where the canal, the river, and the road cross paths. Be sure to go all the way out the the river's edge. In this area, if you were to "set up camp" for a day and night, where would you choose to do so? Does this place provide shelter or exposure? Is it spatially scaled for one person?
Stay in this chosen spot for several minutes; noting contact points between your body and the site structure.
Photograph and sketch a section of your camp site.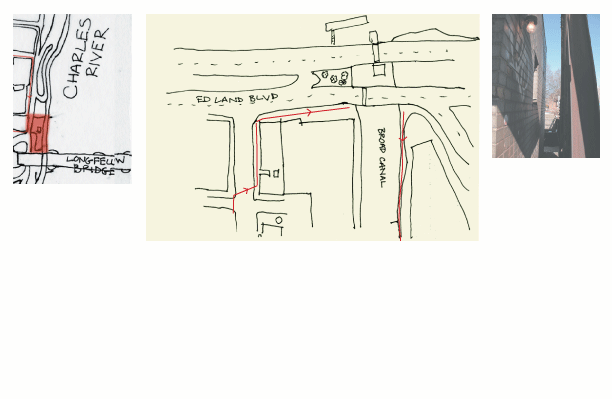 "Vibrations and sound produced by cards passing on streel bridges. The narrow bridge at the side of the bridge keeper's house (?) is a place where I enjoyed ( ). From here the entire area surrounding it can be experienced and yet it is somewhat sheltered and private."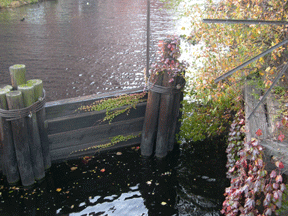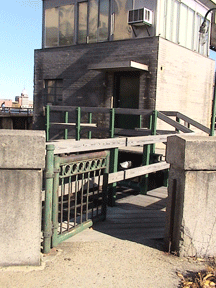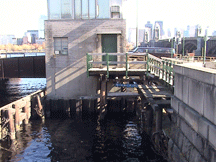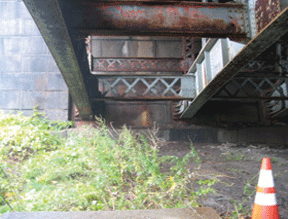 I'd set up camp on the platform entrance to canal maintenance 'house': in sun (?) (than other options), protected- back against structure, open view ahead, protected from road-- good feng shui!, relatively quiet, room for 2, but scale is personal.
exposure- lots of exposure, some paths oriented to pedestrians, overall, though, sense of larger-than-human infrastructure. Just heard the T rattling by, traffic- lots of cars. Some unlit nook or cranny might provide a place at night. What happens in 'guard tower' (canal office gatekeeper) structure? I might choose the spot with trees, but I wouldn't want to camp here. (maybe under the bridge would be better?)
It provides shelter- but I can't get in now b/c there is a fence. It's a nice grassy knoll on the water edge w/ bushes and protection from bldg and fence. I could hang my bear bag on the flag pole!