| | |
| --- | --- |
| KATE JAMES | MIT 4.213J/11.308J URBAN NATURE AND CITY DESIGN |

- - - > SCORE CASE STUDY: > PART 4
Athenaeum Street Plaza

You'll come upon an outdoor plaza on your left. Your task is to accessorize the plaza . Move any found object (small is fine) from the larger site area to the plaza seating area. Explore the periphery of the plaza area (and surrounding lots if you are so inclined) to find this object. Photograph the object in its original context and in its new position within the seating area.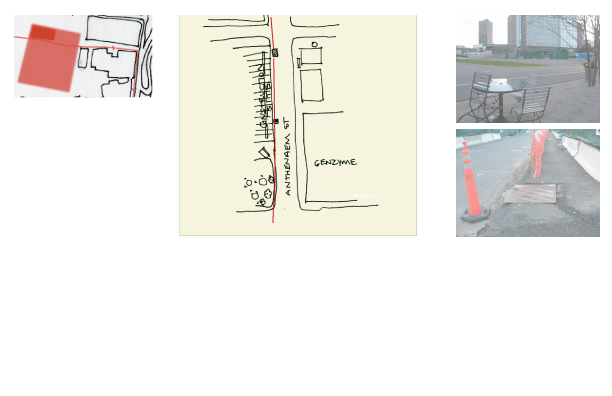 "I had to look for a while to find something- the site is so clean! I found a lonely napkin in the bushes. I had to put it under the chair to keep it from blowing away."
There is a guy playing solo saxaphone- very nice. One small stone in a large bed of stones- construction area abutting new buildings; one small stone looking much larger seated on the outdoor café table.